Joe talks about his new album American Rocker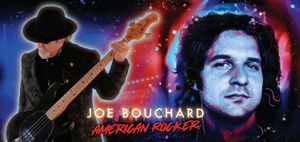 http://www.knockandknowall.com/articles
NEW REVIEW OF THE ALBUM - JUST OUT 
Knock and Knowall New Album Roundup 
by Eric Sandberg 
Joe Bouchard **** 
American Rocker 
Rockheart Records/Deko Entertainmant 
One of the strengths of the original Blue Öyster Cult was that all five members were great songwriters. While Donald "Buck Dharma" Roeser was initially not very prolific, he had a knack for coming up with songs that got played on the radio. Many of the classic album tracks and concert favorites, though, were composed by either bassist Joe Bouchard and/or his brother Albert. This is why any new album released by either of the Bouchard brothers instantly evokes the memory of one of my favorite bands. 
Bouchard's latest, American Rocker delivers those memories in spades and honestly provides me with more of those 'BÖC feels' than the most recent Cult album. His distinctive voice, reminiscent of Albert's but easily distinguishable, and his very recognizable, deceptively sophisticated compositional style are combined with lyrics worldly and otherworldly that echo BÖC's early days. 
Bouchard plays all the instruments himself, including brass, but leaves the drumming to veteran Mickey Curry and brings in John Jorgenson to play some tasty Buck Dharma style lead guitar on "The Golden Age" a wistful look back at the good old arena days.